TRACK DATA
Pole position: Left
Length: 5.380 km
Width: 12 m
Corners: 16 (10 right, 6 left)
Longest Straight: 1068 m
Constructed: 2004
Modified: 2022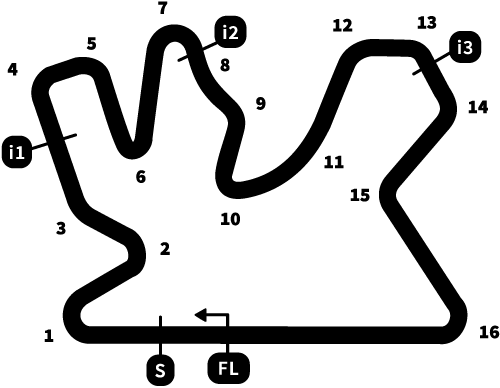 All Time Record: 2021
F. Bagnaia (ITA)
1'52.772 - 171.7 km/h

Best Race Lap: 2022
E. Bastianini (ITA)
1'54.338 - 169.3 km/h

Best Pole: 2021
F. Bagnaia (ITA)
1'52.772 - 171.7 km/h

Top Speed: 2015
J. Zarco (FRA)
362.4 km/h



HISTORY
The fabulous Lusail International Circuit lies on the outskirts of Doha, the capital city of Qatar. Built in little over a year, the track cost $58 million USD and required round-the-clock dedication from almost 1,000 workers in order to get it ready for the inaugural event - the Marlboro Grand Prix of Qatar on the 2nd October 2004.
The track itself is a flowing layout of 5.4 kilometres, surrounded by artificial grass designed to prevent sand from the neighbouring desert from blowing onto the circuit. The main straight is over a kilometre in length and there is a good mix of medium and high-speed corners, including a couple of quick left-handers which has proved particularly popular with the riders.
In 2008 Qatar celebrated the first night time Grand Prix in history, following the construction of permanent outdoor lighting. The switch to night time racing was a success and has continued to be so, with the Qatar event established as one of the most spectacular on the MotoGP™ calendar.
In 2022, the Lusail International Circuit went through an extensive renovation and remodelling to the paddock area and circuit facilities in order to welcome back Formula 1™ in Qatar for the 2023 season. For that reason, Qatar did not host the opening round of the 2023 MotoGP™ season for the first time since its first even Grand Prix back in 2008, with the Qatar Airways Grand Prix of Qatar exceptionally taking place in November 2023, just one month after the Formula 1™ made its return to the brand new facilities.