TRACK DATA
Pole position: Left
Length: 4.542 km
Width: 14 m
Corners: 18 (12 right, 6 left)
Longest Straight: 487 m
Constructed: 1955
Modified: 2012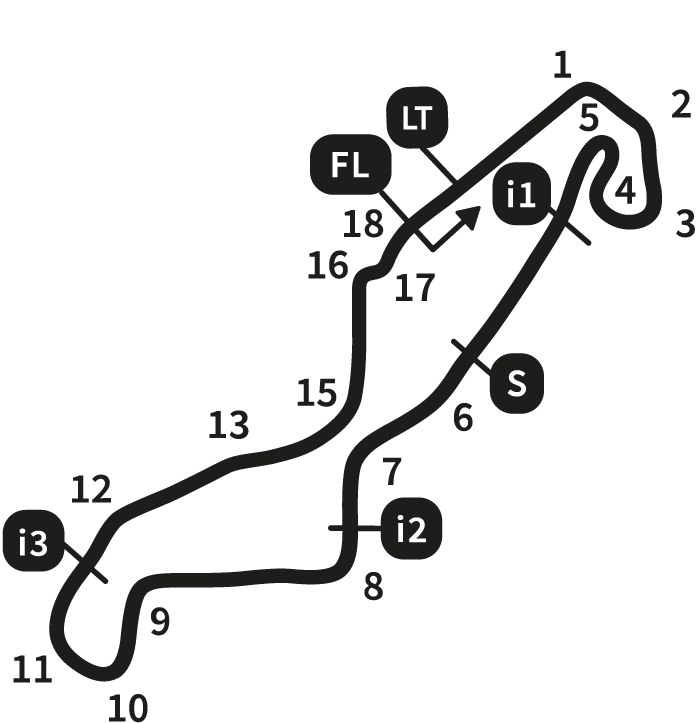 All Time Record: 2022
F. Bagnaia (ITA)
1'31.504 - 178.5 km/h

Best Race Lap: 2019
A. Espargaro (SPA)
1'32.500 - 176.7 km/h

Best Pole: 2022
F. Bagnaia (ITA)
1'31.504 - 178.5 km/h

Top Speed: 2015
A. Iannone (ITA)
319.8 km/h


HISTORY
The original Assen track was first used for the 1925 Dutch TT (Tourist Trophy) race, held on country roads through the villages of Borger, Schoonloo and Grolloo, and organized by the Motorclub Assen en Omstreken. The brick-paved track had a length of 17.75 miles (28.57 km). The winner was Piet van Wijngaarden on a 500 cc Norton with an average speed of 91.4 kilometers per hour (56.8 mph).
In years afterwards the Dutch TT was held on a road circuit through de Haar, Barteldbocht (near Assen), Oude Tol, Hooghalen, Laaghalen and Laaghalerveen.
In 1951 the Italian Umberto Masetti took the record on a 500 cc Gilera with an average speed of 100.88 miles per hour (162.35 km/h). In 1954, Geoff Duke of Great Britain reached 106.06 miles per hour (170.69 km/h). The circuit remained unchanged until 1955, when a whole new circuit was built close to the site of the original, but less than a third of the length and much more like a modern road racing circuit.
The circuit was fundamentally redesigned again in 2006, becoming the so-called A-Style Assen TT Circuit. All alterations aside, only one section of the circuit is original; the finish line never moved.
On September 21, 2009 it was announced that a new chicane will be added, after a request from the A1GP organization, however A1GP was unable to start the 2009-'10 season and as a substitute the Superleague Formula replaced A1GP.
The current Assen race track was built in 1955, and initially had a length of 7,705 meters (4.788 mi). The current track has a length of 4,555 meters (2.830 mi) with the mixture of super fast flat-out and slow corners. The longest straight is 560 meters (0.348 mi). The curves in Assen were traditionally banked and the surface is extremely grippy, so the riders were able to drive much faster on the course than other circuits. Today these sloped or curved bends have been modified due to safety issues.
On July 6, 2004 the organization announced plans for an amusement park located to the north of the track. In 2006 the northern loop was removed and the length was shortened to 4,555 meters. The new centre is expected to be visited by 300,000 people, and the total investment is approximately € 85 million.