TRACK DATA
Pole position: Left
Length: 3.671 km
Width: 12 m
Corners: 13 (3 right, 10 left)
Longest Straight: 700 m
Constructed: 1996
Modified: 2003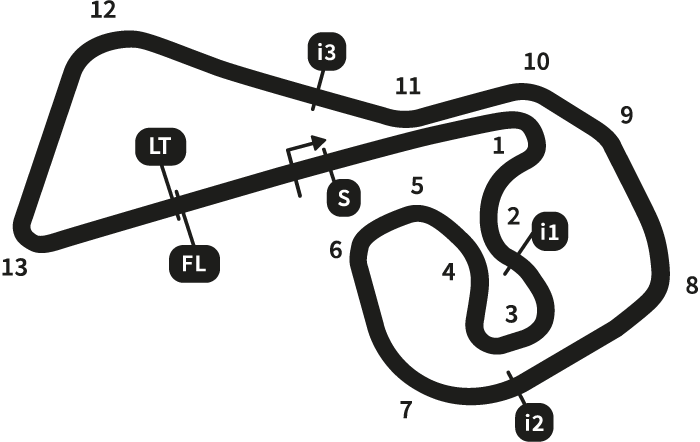 All Time Record: 2022
F. Bagnaia (ITA)
1'19.765 - 165.6 km/h

Best Race Lap: 2019
M. Marquez (SPA)
1'21.228 - 162.6 km/h

Best Pole: 2022
F. Bagnaia (ITA)
1'19.765 - 165.6 km/h


Top Speed: 2022
J. Martin (SPA)
304.2 km/h


HISTORY
The first race was held on 26 May 1927 on a 8.7 km layout on public roads, running also through the village of Hohenstein-Ernstthal itself. It was dubbed "Sachsenring" in 1937. The East German motorcycle Grand Prix was held there from 1962 to 1971. The local two stroke MZ bikes of Zschopau were competitive during this time. The quickest lap was achieved by 15 time World Champion Giacomo Agostini on a MV Agusta with a 180 km/h average. After West German Dieter Braun won in 1971 and the East German fans sang the West German National Anthem in celebration (as is the case in sport, the winner's National Anthem is played after the event), the event was limited to East European entrants for political reasons.
In 1990, with faster Western machinery now available, racing through the village became too dangerous with some fatalities (this can be compared with the Isle of Man TT).
To accelerate redevelopment of eastern Germany in the new unified Germany, a 2.9 km (1.8 mi) short track berg corner was built in the 1990s to bring international motorsport to the newly freed eastern part of Germany. In 1996, IDM motorcycle racing and the ADAC Super Tourenwagen Cup resumed racing here. The DTM raced here in 2000, with Klaus Ludwig winning at age 51, but the DTM did not return after 2002, preferring international venues.
Although mainly used as a driver training centre and road transport safety station, Sachsenring first hosted MotoGP™ in 1998 and many improvements have taken place since then, including a drastic layout enhancement in 2001. Numerous tight corners make it one of the slowest tracks on the calendar but there is never any shortage of close racing action.