TRACK DATA
Pole position: Left
Length: 4.423 km
Width: 11 m
Corners: 13 (8 right, 5 left)
Longest Straight: 607 m
Constructed: 1986
Race: 25 laps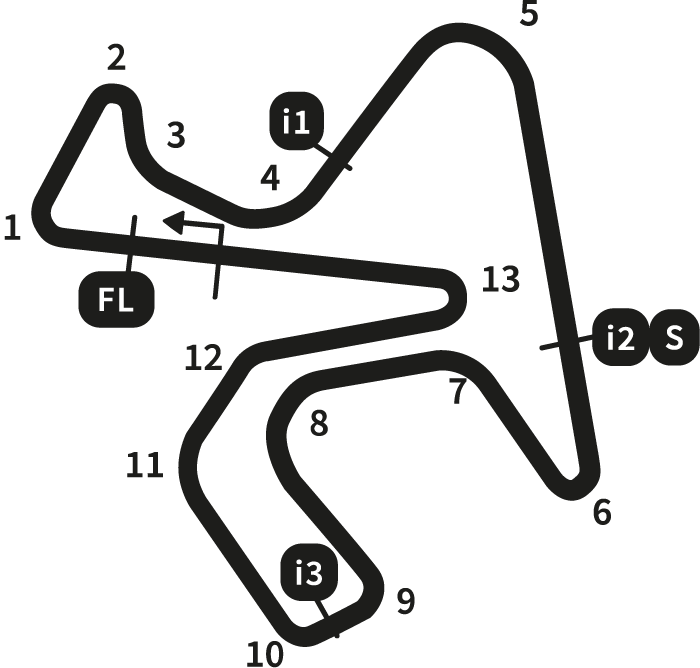 All Time Record: 2022

F. Bagnaia (ITA)

1'36.170 - 165.5 km/h

Best Race Lap: 2022

F. Bagnaia (ITA)


1'36.669 - 163.0 km/h


Best Pole: 2022

F. Bagnaia (ITA)

1'36.170 - 165.5 km/h

Top Speed: 2021

J. Zarco (FRA)

300.8 km/h


HISTORY
The circuit opened on 8 December 1985. During 1986 the circuit hosted the first international motorcycle event in Spain in March and the Formula One Spanish Grand Prix in April. The circuit's relatively remote location hindered significant spectator turnout, although up to 125,000 can be accommodated. Because of this, F1 moved to Barcelona following the 1991 race.
Due to the hosting of the European Grand Prix in 1994, the circuit instituted safety changes from the 1990 configuration, including a new chicane (the Senna curve) at the corner where Martin Donnelly had an appalling accident during qualifying for the 1990 Spanish Grand Prix. Jerez also hosted the 1997 European Grand Prix, which was the championship decider between Michael Schumacher and Jacques Villeneuve, who collided during the race.
During the podium celebrations of the 1997 race, Jerez's Mayor Pedro Pacheco disrupted the podium celebrations by presenting a trophy that was supposed to be presented by a dignitary from Daimler-Benz. This incident resulted in the track being temporarily banned from hosting a Grand Prix. It has never hosted another Grand Prix, but remains one of the most popular venues for winter testing.
During 2005, the track was resurfaced. It was expected that the Champ Car World Series would race there in 2008 until the series was cancelled early in the year after merging with the IndyCar Series.
The circuit currently holds pre-season Formula One testing shared with the Circuit de Barcelona-Catalunya.
On 2 May 2013, it was announced that the final corner would be renamed after Spanish MotoGP world champion Jorge Lorenzo.