Tech3 KTM Factory Racing took its sixth departure of the MotoGP season today at the Gran Premio Red Bull de España, in sunny and hot Jerez de la Frontera. Australian Remy Gardner was the only one of the orange rookie to line up on the grid today, with Raul Fernandez set to miss out on his second Grand Prix in a row following his right hand injury sustained in Portimao.
Remy Gardner got his best qualifying day of the season yesterday as he was set to start the Spanish Grand Prix from the eighteenth position, a very encouraging progress for the rookie and his team. This morning, Remy was able to practice one more time before the race during the twenty minutes of warm up in front of an already packed Circuit de Jerez-Angel Nieto. He went on track for twelve laps with a new set of tyres and rode in 1'38.492.
Ready for twenty-five laps set to be tough under the heavy sun, Remy Gardner lost a few positions within the first lap as he got touched by another rider. Unfortunately, he lost his left wing which completely changed the game for him. With only one wing, he lost stability. Once he settled in, he became really regular and registered consistent lap times in 1'39, never more, but never less neither. Remy finishes his sixth MotoGP race in P20 today. Tomorrow, he will attend a test day here in Jerez with high hopes to test a few things which will hopefully allow him to improve his performances.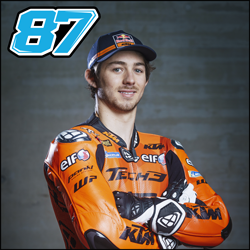 Position: 20th
Championship: 22nd
Points: 3
---
"Today I lost my left front wing on the first lap, so I struggled the entire race to ride. It had a big effect and I was wheeling all the time. I was even unable to go full gas on the straights so I did not have much fun today. You realize how many down forces these wings create when you are riding with only one because you get dragged by one side of the bike and it is really tough to control. I knew we would struggle a bit today, but I am sure that we could have done a much better race with two wings. For sure today I learned that wings are really effective! Anyway, I hope that tomorrow we will be able to test a few new things to make some improvements on the bike."
---
"It was a really tough weekend for the Tech3 KTM Factory Racing Team here in Jerez. After the qualifying, we knew that it was going to be a tough and long race for us, although you always hope for the race to be a different story. Unfortunately, it was not.
I would like to thank Remy for his efforts. He did not give up when he lost his left wing which caused instability on his bike, but he kept pushing until the checkered flag. We gathered important information to understand where we and ourselves need to work in order to improve.
Tomorrow, we have a test day here in Jerez and we have a few things and different settings to work on to give Remy what he deserves, which is a more effective package. We hope that he will be able to be closer to the other guys from the next round in Le Mans, the team's home Grand Prix.
I am really sad to have Raul Fernandez in the box and not on his bike for the second Grand Prix in a row. He has been great, kept positive all weekend along, attended media activities, briefings, spent time with his team, and all the sessions on the safety road trying to learn from his rivals. He will not be testing tomorrow as he is still unfit, but I am quite sure that he will be back with us in Le Mans. I really hope that both Remy and himself will be competitive for our home Grand Prix in two weeks."