The day the MotoGP Indonesian fans were waiting for finally came today, as the Pertamina Mandalika Circuit hosted the Grand Prix of Indonesia for the first time. Eventful is the least we can say when trying to describe the Sunday that the MotoGP paddock has just experienced. Whilst Moto2 and Moto3 races went on as planned on dry conditions, drama time came around to disturb the events when the rain started pouring down just forty minutes before the MotoGP race start, initially planned at 15:00 local time (GMT+8). Leaving the track in impracticable conditions, it left no choice to the MotoGP race direction than delaying the race start until further notice. After more than one hour of heavy rain, it finally calmed down, allowing the race to start at 16:15 local time for twenty laps, in front of an Indonesian crowd very eager to finally see the action go on.
On his second MotoGP race, rookie Raul Fernandez experienced his first wet race at the Pertamina Grand Prix of Indonesia, starting from the seventeenth position on the grid. After a long wait in the garage, he was finally able to start doing what he was born to do, racing, when the rain stopped. Raul had a very good start and was able to maintain a good rhythm that kept him with his group during the first laps, before slightly starting to slow down as the rain got heavier. Raul had to completely discover how his tyres and his bike work in very wet conditions, and he managed to do a brilliant race whilst he was learning. Raul passed the line in P17 no far from the points, and he is now heading to Argentina having taken so much experience from this race.
Behind the Spaniard on the grid, there was Australian Remy Gardner in eighteenth position, who was also eager to race for the first time here in Indonesia. For his first wet race in MotoGP, Remy was also in discovery mode today on rainy Lombok island, and seemed to struggle finding confidence on his bike. Once he started to understand a bit more his tyres and their limit, Remy was on his own at the back but it allowed him to focus on his lap-times and improved towards the end of the race. Just like his teammate, he goes home having taken great experience of this race, will learn from it, and will now head to Argentina, a race that he enjoys a lot.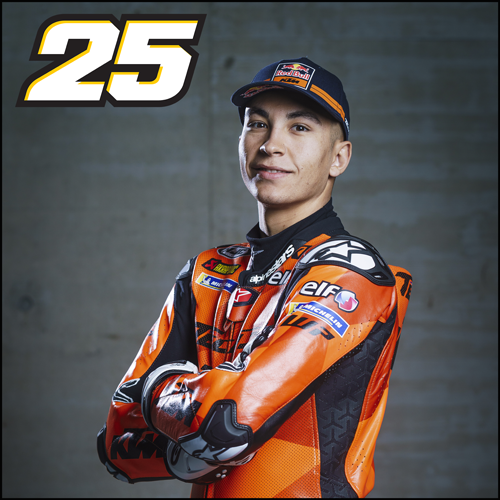 Position: 17th
Championship: 21st
Points: 0
---
"The big challenge for me today was that the only reference in the wet that I had, was a Moto2 one. The front tyre is much more sensitive on a MotoGP bike, and more difficult to control, which leaves a huge difference between the two categories. During a wet Moto2 race, sometimes you can crash when braking on a straight, and I had this in mind, so I was a bit shy at the beginning of the race. Lap after lap, I started to understand everything better, felt better on the bike, and I did a good job. It was my first rainy race in the World Championship, so I learned so much today. We have a bike that won today under the rain with Miguel Oliveira, so it is a very good bike and I feel very positive about this. Results will come with time, so we will continue the good work."
Position: 21st
Championship: 19th
Points: 2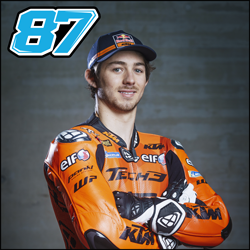 ---
"It was the first time riding a MotoGP bike in the rain, so it is never ideal going into a race when you have never tried the wet before. If I am honest, I expected more of the race today. I had some visibility issues today with the rain and it did not improve much as I was behind the others, but at least I took a lot of experience and managed to do the twenty laps. I was able to learn a lot about the tyres as they are very different from the Moto2 ones. The last few laps, I found myself on my own, so I had less water coming into my visor and was able to start improving my sectors and my times. I try to keep positive and move on to the next race."
---
"The weather conditions were really difficult today so I am glad that we were finally able to race after the heavy rain that came just before the race. We are very honoured to have had the President of the Republic of Indonesia with us today, and I would like to thank him for his welcome and for putting together such a great event for us.
With our two rookies, we had never tested with that level of water on track so it was completely discovery time for them, whether it was to understand the grip of the Michelin tyres or how to handle the MotoGP bike.
Raul had an amazing start, but he told us that he was a bit shy on the braking at the beginning because he only had for reference his Moto2 experience on wet conditions. Throughout the race, he improved his pace, did not make any mistake, learnt a lot, and just missed out on the points. We know that it is going to come soon. He obviously wants more and quicker, but today was a great day of learning. I want to thank him for his hard work and his attitude.
I feel slightly frustrated about Remy Gardner's result because he is normally very strong in rainy conditions, so I did not understand quite well when I saw him losing contact with Raul's group. When he came back to the box, he was unhappy with his helmet which was full of water and considerably reduced his visibility. At this level, when you know how much investment goes into a race, it is a great shame to be missing out on a potential good result because of a helmet problem like we had today, and I find it difficult to accept. Apart from this, he managed to finish the race, which is good, and he also learnt a lot about his tyres and his bike in rainy conditions. I think that without his problem, he would have been fighting for the points in Raul's group.
Anyway, we leave Mandalika with two riders who are now more experienced MotoGP riders than when arriving, which is the goal for our rookies, and we will head to Argentina where I feel confident that they can score points. I would like to also congratulate KTM Factory Racing and Miguel Oliveira for their win, it is an incredible result."