That's a wrap for 2021 as the Circuito de Jerez-Ángel Nieto hosted the final day of the MotoGP tests which were kicking off the 2022 campaign for the Tech3 KTM Factory Racing team. Raul Fernandez continued his progression on his new KTM RC16 today and kept learning about the power and all the technicalities of his new bike. The Spanish rider's attitude and his adaptation have been very impressive and promising for next season, set to be full of surprises. His best time was 1:38.691, completed on lap 53 of 55, which earned him to finish 20th overall.
Still hurt at the rib from yesterday's session, Remy Gardner also proved to be solid despite the pain and did not let his team down. In very windy conditions again, the Australian worked incredibly hard and spent a lot of time on track before a well-deserved winter break. Just like his teammate, today's goal was to continue to adapt to his new equipment and gather as many information as possible for the team to be able to prepare the ideal bike for 2022. He completed 64 laps and finished the day in P22, with a best lap time of 1:38.728.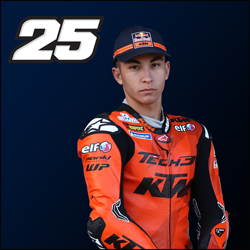 Position: 20th
Time: 1:38.691
Laps: 55
---
"My second day was very positive. We worked in the continuity of yesterday, which is to keep learning about the MotoGP category. I am very happy with the bike. Today, we rode a lot of laps with used tyres and I was competitive. I also tried to do one lap with a soft tyre and I ended up really close to the other riders. I already can not wait to go to Sepang for the winter tests next year. I will make sure to train hard this winter in order to gain muscles and get stronger, because this bike is very demanding physically."
Position: 22nd
Time: 1:38.728
Laps: 64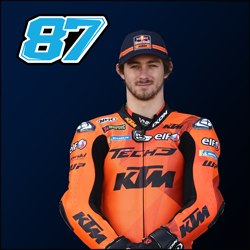 ---
"For sure, it's been tough two days, physically mainly and also I was trying to learn the bike. But I had a lot of fun and step by step we are getting to understand the bike better and every time, we improved quite a bit. The lap time for us wasn't really the main goal here, it was just understanding the bike, working with used tyres and trying to understand the traction control and wheelie control, basically all the electronics, plus the power, ride height systems, brakes and everything else. I had a good time and by the end of the day today, I had everything a bit more under control and I think we were doing some decent lap times as well, just having fun. With these ribs, I'm obviously quite sore, so I didn't ride to my best abilities, but I just wanted to get some more laps in."
---
"It was an incredible intense two days test for the Tech3 KTM Factory Racing team. I would like to thank our two riders for their commitments. I know, they have a long season behind them and obviously they must be a bit tired, but they showed great spirits for this first real MotoGP test. They brought a very light and positive atmosphere in the garage and both of them delivered an impressive performance on the bike, plus interesting comments. As we all know they are rookies, it was interesting to listen to what they said and see the progression on each run they were doing."
"Clearly, the weather conditions were not ideal with really, really strong wind, that made it a bit challenging on track. But nevertheless, they did a lot of laps. I think they understood a bit more now, what they need to do to ride this bike fast and what they need to do to be fit physically. They understand that the upper body needs to be much stronger with the speed and the carbon brakes of the MotoGP bike. So, altogether, I think it was a very productive and interesting test for them to go into the winter break, knowing what to do and having a good idea of how to arrive in Sepang."
"I would like to thank Dani Pedrosa as well for his role as a test rider, but also as an adviser. He came to see our riders after having been on the service road watching them and every single bit of advice he gave them was very important and very helpful. So, we are finally done. We can all go home with the feeling that this is mission accomplished. Now it's up to the brains inside the KTM Factory Racing department to sharpen our 2022 weapons, but I've got all trust in them."
"Before to finish, I would like – as I did already – thank the riders, but also thank the whole crew for their never-give-up attitude, for their hard work almost 20 hours a day, for the smiles, they never lose on their faces. Some people don't understand how tough it is to be a racing mechanic or engineer, but I know and I would like to thank every single team member, including the organization and media department for their commitment, for their support and I wish everybody a good winter break to enjoy their personal life before we all head to Malaysia."