Moto2 sensation Raul Fernandez was excited to feel the power of a MotoGP bike today with his new team, Tech3 KTM Factory Racing, after an outstanding rookie season in the intermediate class this year. The Spanish rider is focused on adapting the bike's settings to his needs in order to feel as comfortable as possible to start working properly on lap times tomorrow. After a hard-working day in the office with a total of 57 laps, Raul finished the day 19th, with a best lap-time of 1:39.083.
The newly crowned Moto2 World Champion Remy Gardner also made his official debuts in the Premier Class under his new colours. Today was all about discovery and learning on his new KTM RC16 at the Circuito de Jerez-Ángel Nieto, under sunny but windy conditions. Unfortunately, the Australian rookie hurt his rib in a change of direction early in the day, which caused him pain to ride his bike, but he still managed to complete 52 laps and finished the day in P24.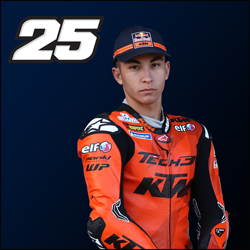 Position: 19th
Time: 1:39.083
Laps: 57
---
"It felt like being a true MotoGP rider. When we did the test earlier in Misano, it was just a little candy from KTM and Tech3 for us and our incredible season. Overall, it was a fantastic day. I'm just living my dream, because I am here in the MotoGP class. I obviously need to learn more things about the bike and the category, especially the breaks and about the power and the tyres. Everything is new. We started in a good way and I'm very happy that step by step and we understood everything. I guess this is the most important. We will continue like this and I want to continue enjoying riding on the bike like a little kid."
Position: 24th
Time: 1:40.170
Laps: 52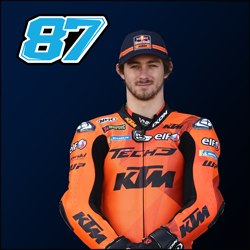 ---
"Today was a fun day. In the morning, I started to feel really good on the bike and was improving a little bit. At some point, I had a fast change of direction and I felt one of my ribs cracking and it started to really hurt when I came back to the box. It might be broken again. In the end, I took some pain killers and just tried to finish off the day in a smoother way. Overall, it has been a pretty painful day riding a MotoGP bike!"