Tech3 KTM Factory Racing's Iker Lecuona secured his second-best grid position of the year yesterday with P10 at the Autodromo Internacional do Algarve. As usual, he was flying at the start and made up three positions just on the first lap. Later on, he was fighting in eighth, but came off the track after a slight mistake in lap seven. Yet, he managed to regroup in P12 and even started to catch up to the group in front again, but while battling with KTM brand colleague Miguel Oliveira, he unfortunately crashed with three laps to go in turn 13, which brought the Grande Prémio do Algarve to the early end.
After he was pretty close to the top throughout all the weekend and qualified in 15th position, Danilo Petrucci concluded this morning's Warm Up with a strong pace in P12. He had a decent launch off from the line and managed to keep his starting position through the first corners until another contender pushed him off the track in turn four. The Italian went down and therefore got his chances for a good result terminated early. Fortunately, he escaped without any physical harm.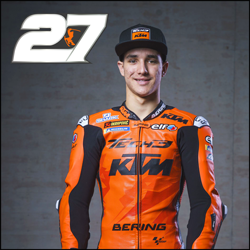 Position: DNF
Championship: 19th
Points: 38
---
"This morning I felt really good like all the weekend. But during the race I had a lot of issues to stop the bike, after 10 laps I started to struggle with the front, I saved three, four crashes and I don't know why. Although it was the first time that we did that many laps with the hard rear and the medium front. It was pretty difficult. But I was still confident to fight for a top 10 result. After some mistakes the top group was gone, but I thought a good result was still on the table. I had a lot of fights with Brad and Miguel and when tried to overtake Miguel there was a bump, I crashed and we were out. I went straight to see him to apologize and checked if he is ok. I'm very sorry for him."
Position: DNF
Championship: 21st
Points: 37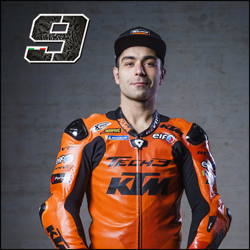 ---
"I have really no words, because it's the second time in a row that another rider took me out of the race. This time, it was even a KTM. I don't know if it was Brad or Miguel, but the result is the same. I did four corners and crashed without any fault by myself. This was the second time in two races and the fourth time this year. It's really bad luck, as we have been truly in good shape this time."
---
"It was a huge pity, as one more time we've been quite fast all through the weekend in Free Practices and Qualifying. We knew we had a good pace and a good result was possible for both of our guys. Again, unfortunately, Danilo was taken out by one of the two Factory KTM riders, so he couldn't even finish the first lap, which is a great shame."
"Iker got a great start and was where we were expecting him to be, pushing with the front group and doing similar times than the front runners. But unfortunately, as we saw many times this season, he made a mistake, lost three seconds and of course the good group. Then he was recovering, finding a good pace again and in an interesting battle with both Miguel and Brad. He crashed and took Miguel down with him. That brought out the red flag and our hopes to score points to an end."
"I'm sorry for Miguel and sorry for Danilo. I think the KTMs were not liking each other this weekend. It's part of racing, I've been told, so let's take it like that. I really hope the last round, which is next week, will be a bit better. This season has been long and there was not so much light. I just hope, that we'll have a bit of light in Valencia."