Launching off the penultimate race of the 2020 MotoGP World Championship season from the fourth row of the grid, Red Bull KTM Tech3's Miguel Oliveira delivered a stunning start, moving from 10th to fifth on the opening lap of the race.
In sunny and windy conditions, the Portuguese even went for fourth after a few laps, but couldn't keep his strong rhythm from halfway through the race. Oliveira dropped to P7 on lap 17, but eventually crossed the finish line in sixth, taking home important 10 points in the World Championship to consolidate his 10th position in the standings.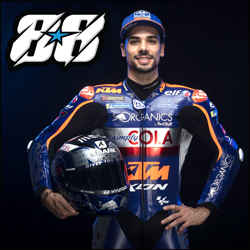 Position: 6th
Championship: 10th
Points: 100
---
"I'm happy about the race. My start was really good again, although I found a little bit more difficulties to keep the pace in the middle of the race. I couldn't find the good grip. It was not a lot, but around one and a half tenths in two places, that made me lose my position and then basically I wasn't able to stay close to the top five. Anyway, this is, what we take home and now we go to the home GP very excited. I hope we can have fun in the final race."
---
"The second race in Valencia and the second great result of Miguel Oliveira and the whole Red Bull KTM Tech3 team. Qualifying was average, but we knew we had the right pace and one more time Miguel had a great start. He was fifth out of the gate and then he managed to keep his head down and opened a gap on the pack. Unfortunately, halfway through the race, he lost a bit of pace and Rins, Nakagami and Binder passed him. But once they were ahead of him, he recovered and on the last six, seven laps, he was nearly having the same pace like the guys in front. This was good to maintain Mir and Dovizioso behind. Honestly, another ten points for the sixth position is a great result. We are still 10th in the championship, which is our target now, but with a bigger gap to the guy following us. I think six is the number of the day for the Red Bull KTM Tech3 team, because Deniz Öncü was sixth in Moto3 and Miguel Oliveira sixth in MotoGP, so six seems to be our lucky number for this weekend. Anyway, after a fifth last week and a sixth this week, Miguel is heading to his home Grand Prix, which is going to be the grand finale of the 2020 MotoGP World Championship. It's going to be a mad and crazy event, I'm sure. The whole Portugal is waiting for Miguel and I'm quite sure, this is going to be the race, where Miguel and the Red Bull KTM Tech3 team are going to give everything they have to finish on a high note. So, we just can't wait to be in Portimao! I would also like to add a few words about Iker, because he did everything he could to be with us from Saturday morning. Unfortunately, he was one of the victims of the Covid-19 virus. He was tested positive, so he couldn't come in the circuit. Unfortunately, the second test was also positive, so we can now officially say that Iker will not be with us in Portimao, which is a great shame. To do the last three races without Iker is a heartbreak. We miss him and I'm sure he is missing us and MotoGP. But there is nothing else we can do. So, let's move to Portimao and there will be some new adventures happening there for the Red Bull KTM Tech3 team."