Miguel Oliveira showed a strong home race for Red Bull KTM Tech3 at the French Grand Prix. In the rain of Le Mans, Oliveira had to avoid a crash on the first lap, making him going back from 12th to 17th. But the Portuguese star recovered quickly to 13th on lap two and started his chase for glory from there, passing one rider by another. After a hard fight for fourth on the final laps, he eventually ended up sixth, bringing home important 10 points for the championship.
At the same time, Iker Lecuona experienced his first premier class race in the wet. The MotoGP rookie took it cautiously in the beginning and improved his lap times towards the end while trying to adapt to the conditions more and more. While gaining experience, the Spanish youngster finally scored a point with 15th on the line following 26 demanding laps at the French venue.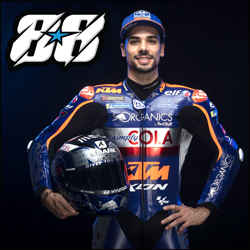 Position: 6th
Championship: 9th
Points: 69
---
"The sixth place is a good result for us and it was my first full wet race in MotoGP at the same time. Overall, it was a good performance, we had a decent race, which was very long. It's just a pity not being able to finish fourth, because I think it was there for us. On the last corners, I prepared to overtake Dovizioso and Zarco was more than a second per lap faster, I even checked on my pit board, but I was not expecting this. At least the fifth place was our result today. Just going again next week, trying to continue like this, finish all the races. Five races to go, there are still many points up for grab, so we are focused on what we can do."
Position: 15th
Championship: 18th
Points: 18th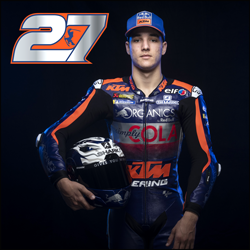 ---
"It was a very difficult weekend for me. My goal was just to finish the race, as I realized that my pace was not very strong. Normally I like wet conditions, but I struggled a lot on this track from Friday on, so I just tried to bring it home safely. I'm not happy, but I hope I can improve next week in Aragon."
---
"When we saw the rain coming on the starting grid, we thought it's going to be a tough race with an unpredictable result. We didn't know if it was going to be a flag to flag, but finally, it rained hard enough to keep the track wet all race long. Miguel had not such a great start, because he was slowed down by Rossi's crash in the first turn, but recovered really well. We could see he had the speed and he was passing riders every single lap. He went up to the group with Alex Marquez and Pol Espargaro. We were really close, quite a lot of times fastest in the group and we thought it's going to be a fight until the end. Then Dovizioso slowed down quite a lot, Pol managed to pass him, we passed him, he repassed us and we lost a lot of time behind him. Pol was gone for the podium and following Dovizioso was enough to slow us down and to be within the reach of Johann (Zarco), who was on the medium rear, that were in a much better shape by the end of the race. We lost the position, not only we didn't catch fourth, but we lost fifth in the very last corner. That can happen, anyway, it's only one point between fifth and sixth. Miguel has shown today that he is a very fast and steady rider in the wet. Our bike was well prepared. Congratulations to KTM for another podium with Pol. Altogether this was a positive weekend, although it's always a bitter feeling to lose a place in the very last corner. Big congratulations to Miguel, he rode really, really well and I think we can only be proud of him. Iker was lost, honestly. The first race in the wet with the MotoGP is never easy. We told him before the race 'try the best you can, learn, finish the Grand Prix, get information, get feedback, get experience' and this is what he did. It was good enough to finish in the points. To get one point for 15th position is not something glorious, but this is a reward for the hard work of the weekend. He is a rookie, he is learning and feeling that in these conditions there is still a lot to learn. But we are quite positive and happy with this weekend in Le Mans for the French Grand Prix. Let's pack everything and move to the next one, which is Aragon."