Starting from 19th on the grid, Red Bull KTM Tech3's Iker Lecuona didn't face an easy task in today's Gran Premi de Catalunya. Following difficult practices, the MotoGP rookie was targeting to regain his confidence aboard the KTM RC16 and gain some experience in the ultra-competitive premier class. Eventually, Lecuona did a consistent race, making up several positions and finally crossed the line in 14th, which earns him two World Championship points.
On the other hand, Miguel Oliveira qualified in 12th, came off the line well fought hard to arrive inside the top 10, while fighting off the challenge of brand colleague Brad Binder. With nine laps to go, the Portuguese occupied ninth position, but was unlucky to go down just two laps later when his front tyre cooled down without having another rider in front of him.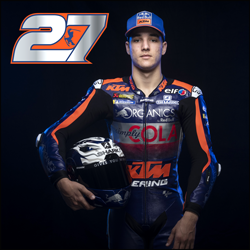 Position: 14th
Championship: 18th
Points: 17
---
"In the end, I'm quite happy that I finished the race, which was my target, as I struggled a lot this weekend and it was difficult for me. Finally, I could enjoy the race a bit and managed to regain a better feeling. I was fighting with a small group and finished in the points. Finally, I hit my target to finish the race and even scored some points. I'm really happy. Thanks to the team for all the support this weekend, as it was really difficult for me. I'm sure we will be better in Le Mans."
Position: DNF
Championship: 9th
Points: 59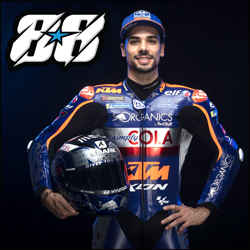 ---
"It's sad to end the race like this. We had very challenging conditions and expected to be competitive and for that we needed to use the medium front. The temperature was quite low today, so it took me just one lap with no slipstream to cool down the tyre and when I went to the left side, there was no way I could save the crash. It's a shame, because even if I went slow, it was worse, so the conditions were tough to use the medium front, but we needed to go for it to be a little bit competitive. This is racing. I hope we can get back to the front in Le Mans, the home race for the team. I want to do well there, also for the championship, so I'll try to be there again."
---
"What a tough weekend here in Catalunya. It's been very difficult. The highlight of the weekend was clearly Saturday, when we had the best track and weather conditions with a great lap in FP3. But apart from that, it was very, very difficult. We never managed to find the right tyre fitting the track grip and temperature. All top three KTM started with a medium front and we knew that was the only possibility for us to go fast. But we also knew we couldn't afford to let it cool down and more or less this is what happened when Miguel found himself in front. He was doing a good race until then. But he said as soon as nobody was in front of him, the temperature dropped and it was a really cold front tyre. Taking the soft would have probably not end in a crash, but meaning to finish much further down, so it's a big pity to end up the weekend with a DNF. The positive is, Miguel is still leading KTM in the ranking, but everybody is so close now. Anyway, let's forget about this weekend and try to move on to the next. Iker had a very, very tough weekend as well and basically, we told him this morning, try to recover your confidence in Warm Up. We gave him the soft-soft front and rear option and told him, his target is to regain confidence and finish that race, which is what he did. Thanks to him, he ended up in 14th position and got two points and for sure has recovered quite a lot of confidence that he lost throughout the weekend. Outside of that, there's not a lot to say. It was the third weekend in a row, I think it's time we have a few days off to recover and rest. See you all in Le Mans for the French Grand Prix!"