Red Bull KTM Tech3's Miguel Oliveira did an impressive seventh race of the 2020 MotoGP World Championship at the Misano World Circuit Marco Simoncelli today. Launching off from P15 following a difficult Qualifying yesterday, he already managed to make up three positions in the opening lap. From there, he continued to fight his way forward, occupying sixth around halftime. With consistent lap times he defended his position and eventually saw the chequered flag even in fifth, which means he climbs up from P10 to P8 in the overall standings.
At the same time, Iker Lecuona did an incredible race as well. Starting from P13, the MotoGP rookie was fast inside the top 10 by the end of the first lap. The Red Bull KTM Tech3 rider made up further positions to reach sixth at the end of lap six. Around half way point, Oliveira passed him, but Lecuona managed to stick with his more experienced teammate and continued to show his potential with fast lap times. With three laps to go, the Spaniard, who was sixth at that point, unfortunately crashed out in turn 16.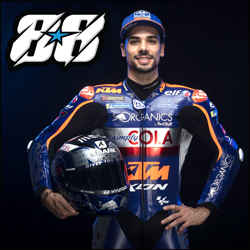 Position: 5th
Championship: 8th
Points: 59
---
"I'm happy about the race. We started really behind and we could manage to gain a few positions, also benefit from a couple of crashes. Our potential was there, we had a very good pace, I felt good with the bike and I made no mistakes, so I kept concentrated all the race, which was not easy. But we managed to come out with a top 5, which was our goal from the beginning, plus scoring important points for the championship and now we go to Barcelona, can clean our minds now and have fun also there. I think we can have another good weekend!"
Position: DNF
Championship: 18th
Points: 15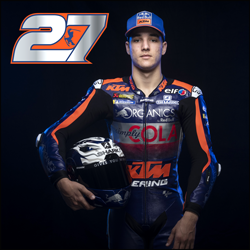 ---
"I don't know what to say. I need to say sorry to the team, because this weekend was amazing, our performance, our work. I finally had a very good Qualifying and a very strong pace in the race. I overtook some riders and had the speed to fight for the top 6, following Miguel was great. I didn't do any mistake until three laps to go, but finally did a big one and lost the front. It's my fault, because I was three seconds ahead of the guys behind me. It's frustrating for me, because I could have gotten my best position. Sorry to the team, let's move on to the next race!"
---
"Finally, we had a very positive day today at Misano for the Gran Premio Tissot dell'Emilia Romagna e della Riviera di Rimini. Although the Qualifying was again not what we were expecting, clearly, we knew our race pace was strong and we just hoped for a good start and eventually half way through the first lap, Miguel was in a strong position and we recovered quite a lot. Iker was ahead of him, so we were really pleased. From that moment, we kept our heads down, both Miguel and Iker had a great race. Iker was leading the first half race and Miguel passed him. We were pleased, because Iker could follow Miguel and try to rest a bit. Eventually, Miguel crossed the line in fifth position, which is a great result. We are first KTM in the championship, which is a big pride for us, but we can't be 100 percent happy, because Iker was right behind him, having a three seconds advantage on the guy following him and less than three laps to the finish, he made a mistake and crashed, which is very unfortunate. It would have been a great team result, fifth and sixth, best result by far for Iker this year. Anyway, the poor Iker is devastated and is so angry with himself. I don't want to add anything. He did a great weekend and a beautiful race until two laps to the end. Let's take the positives, they were fifth and sixth with three laps to go, Miguel gets the 11 points for the fifth position, KTM is on the podium today with Pol (Espargaro) and we are closing the gap always. It doesn't matter how the track is. Thank you to all the guys inside the Red Bull KTM Tech3 garage, thanks to all the guys working in Mattighofen to push and develop the KTM RC16. Just a few days and we are in Barcelona for the next race, so let's keep our heads down, take a rest and let's keep the positive vibes, that are inside the team at the moment."