Less than 48 hours after his MotoGP debut at the Circuit Ricardo Tormo in Valencia, Iker Lecuona switched sides inside the Red Bull KTM Tech3 garage to properly start his premier class adventure with the French squad today.
Over the course of the day, the Spaniard did 57 laps with many significant improvements. He concluded day one with a lap time, that was already 0.013 seconds faster than his fastest lap in Qualifying on Saturday.
Position: 13th
Time: 1:31.645
Laps: 57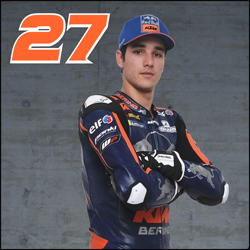 ---
"Today was my first official day in this team as a MotoGP rider and I'm very happy. I didn't change the bike, but I was just working on myself and my riding style. For sure, I need to continue to improve, but I'm quite satisfied to finish this first day in 13th position, just 1.482 seconds to the top. I did very consistent laps and decent lap times, so it's truly ok. Tomorrow I can't wait to continue to work with my new team and improve myself, I need to ride more and we will see."
---
"It's the end of day one testing for Iker Lecuona at Red Bull KTM Tech3. We are very happy. We don't have too much to test on the bike, but a lot with the rider. Iker just moved from Guy Coulon's to Nicolas Goyon's crew, so he had to relearn new guys and new methods of working, although they are quite similar and it was very interesting to start working with him without the pressure of a Grand Prix, with more time than a 45 minutes session. What he did today, was very impressive, to be honest, because we have been testing different settings, different tyres and he reacts quite well. You could see that run after run, his riding style is improving, he's getting more efficient for the MotoGP bike and I would like to say, that tonight we are a happy team. We are very proud and lucky to have Iker with us, so just wait for tomorrow, don't be carried away, but it was a good first day for the 2020 season. On the other side of the garage, we don't have too much to say, but we have the honor of Dani Pedrosa using our garage. We have a lot of very exciting technical things under our eyes, we have a very clever and skillful rider there, so this was a very emotional day one for the 2020 season. Thanks Dani, thanks Iker and more tomorrow!"