This weekend's Gran Premio de la Comunitat Valenciana will see Red Bull KTM Tech3's Hafizh Syahrin starting his final premier class race for now, starting on Friday 9.55 local time with FP1. The Malaysian star, who missed out on home points narrowly less than two weeks ago, arrives in Spain full of emotions and motivation to finish inside the top 15 in order to conclude his second year with the French squad on a high note.
On the other side, Miguel Oliveira is sidelined for the 19th Grand Prix of the season following a successful surgery on his right shoulder. The Portuguese MotoGP rookie is already recovering and targets to be back to full fitness with the first tests of 2020. Meanwhile, Iker Lecuona will jump onboard the KTM RC16 this weekend, doing some initial laps on the big bike before the Spaniard will contest in the MotoGP full time for the upcoming season.
Championship: 23rd
Points: 8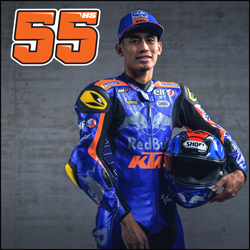 ---
"This is going to be my last round with the Red Bull KTM Tech3 team, which has been my second family these last years, plus it will be my last race in the MotoGP class for the moment. I will do my best and want to enjoy the whole weekend. It's going to be a tough round, especially emotional, therefore I really want to do well in order to say goodbye with a positive feeling. I truly hope we can do well and I will try everything to make it happen!"
Championship: -
Points: -
---
"I'm very, very happy to have the chance to make my MotoGP debut in Valencia this weekend, which is my home track. I want to thank the entire Red Bull KTM Tech3 team for giving me this opportunity, but at the same time my American Racing team for releasing me to start this exciting adventure previously. It's a great possibility for me to test the KTM RC16 for the first time during the last weekend of the 2019 season, before I enter the category full time next year. My goal is to enjoy the Valencia GP and learn as much as possible."
---
"With the Valencia GP coming, we obviously approach the end of the year and like many people probably say, it seems like it was just yesterday when we started our first test with the KTM. It's been a short, but interesting journey and clearly, we feel very sad and sorry, to not have Miguel with us, because we started this adventure together and went through many things during this year. It's not a good feeling, but hopefully he will be physically present, although we would prefer to have him on the bike. Having said that, this weekend is going to be an exciting one, especially for Red Bull KTM Tech3, because it will be the very last race in the MotoGP category for Hafizh with us, after we spent two years together, had some very good moments and spent some real great time, plus having a lot of fun together. Plus, it's going to be very interesting, because we will have a rookie with us. With just 19 years of age Iker is going to jump on the bike for the very first time during the official Free Practice 1. It's a little bit unusual, but once we learned that Miguel will be out of action and knowing, that Iker will be with us next year, we've been thinking to provide him an extra test, so there's absolutely zero pressure on Ikers shoulder and hopefully, we can start working well and have more experience, when we properly start the 2020 season with the test in Valencia on Tuesday. So, there are plenty of things to do, it will be quite emotional, as people are leaving, which is sad, but at the same time people are joining, which is exciting. This is the final round, let's hope the weather will be on our side this year. It's the end of a chapter, but the next one will start very soon after we finish the current season."