Local hero Hafizh Syahrin did a steady race in front of his home crowd today at the Sepang International Circuit. Starting from the back of the grid, he managed to make up a position already on the first lap of the physically ultra-demanding race and could keep his pace until the end, which made him cross the line for the Malaysia GP in 16th position.
At the same time, Miguel Oliveira is set to undergo surgery today. Following his right shoulder injury in Silverstone and another heavy fall during the Australian GP, the Red Bull KTM Tech3 rider is currently in hospital Sanatorium Kettenbrücke in Innsbruck, Austria where Dr. Karl Golser will perform operation on his damaged ligaments.
Position: 16th
Championship: 23rd
Points: 8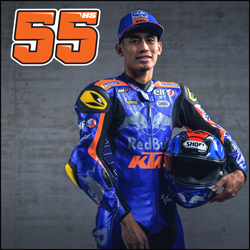 ---
"The race itself was very hard and for sure, it was very emotional for me, as for the moment it was my last home Grand Prix in the MotoGP class, but I will return with the Moto2. I hope all the fans enjoyed the race here, I couldn't do more and I'm really sorry to everybody. I was already over 100%, but apparently, we are limited. I wanted to stay on the bike and it was tough. I appreciate all the support a lot and I want to say a huge thank you to my team, who were there for me from my first moment on, worked hard and never got tired to help me. I really enjoy this moment and I hope I can come back strong next year."
---
"It was an emotional race for the entire Red Bull KTM Tech3 team and at the same time the last race for Hafizh Syahrin in MotoGP here in Malaysia for now. We know how much he was willing to race in front of his home crowd and we saw how much the crowd was supporting him and cheering for him, so I'm glad he could have an ok race. I think the last lap of celebrations was full of emotions. We are happy to have given that feeling to the crowd, to have given that possibility to Hafizh. He has done a steady race, but more than the race, I would like to thank him for what he did with us for these past two years. Still we got one race to go in Valencia, but that one was very special for him and for us. It's been a good moment and I'd like to thank him for what he did and for being such a nice guy as well as such a great ambassador for MotoGP in his home country Malaysia. Regarding Miguel, as most of you have been informed, he is having an operation today in Europe on his right shoulder injured in Silverstone, following a crash. We are just hoping that everything is going to be fine. That was by far the best solution and we know he will be fully recovered within maximum two months, so he will miss Valencia, but he will be absolutely fit for the first tests in Sepang, which was the main point. I'd like to thank him a lot, because since Silverstone he's riding in a lot of pain, he never gave up. He didn't want to talk too much about it, but I know he was in a lot of pain, which is always a handicap and Miguel is a true gentleman, a real fast MotoGP rider. His rookie season was not easy, but he showed speed and a huge commitment, so we just can't wait to see him back on the bike with full fitness."