Red Bull KTM Tech3's Miguel Oliveira delivered a stunning performance in today's Japan Grand Prix to finish 12th. The Portuguese MotoGP rookie found himself in P18 after the first lap, but developed a strong pace throughout the 24 laps race, being already well placed inside the points scoring positions at halftime and made up even more ground to eventually see the chequered flag in P12.
At the same time, Hafizh Syahrin was battling hard at the Twin Ring Motegi today. The Malaysian started from 20th position on the grid and improved to 18th by the end of the eighth lap. An unfortunate mistake with five laps to go made him lose his strong rhythm, which caused him two positions to finally finish in 20th on the line.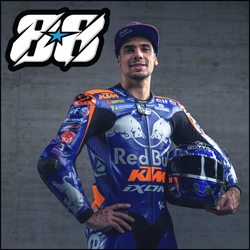 Position: 12th
Championship: 16th
Points: 33
---
"A fun race! It was a tough start for me, I couldn't position myself very well in the first two corners, so I lost a lot of time in the first laps. It took me a while to gain my pace, but once I got a bit of speed and some good overtakes, I could manage to do a very good race and finish inside the points, which was again our target. At the end of the race, I felt much better than in Thailand, so physically it's a good sign. I just hope to keep this good line and continue to work together with the team for the next race in Phillip Island."
Position: 20th
Championship: 24th
Points: 7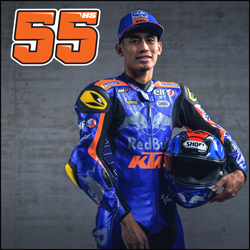 ---
"It was a good race from lap one until lap 18, but after that, I knew I would struggle to control, as we improved, but we were sure it's not enough. I'm really sorry for my team, as I wanted to stay with Nakagami. I passed him and he passed me back, so I believe we could have made a decent race. Overall, it's not bad, but I imagined before that I will struggle on the last five laps. I couldn't stop the bike, I ran out on turn one and when I came back I was missing grip on the rear, so I couldn't do more. I'm very sorry for everybody, that I didn't manage to do better."
---
"Altogether this has been a very positive weekend for the Red Bull KTM Tech3 team here in Japan. It was a tough weekend for everyone, cool temperature on Friday, rain and a damp track on Saturday meant difficult conditions to master, a dry Warm Up this morning and a bit of a gamble for tyre selection. We run soft-soft in Warm Up and we knew it was going to be a bit warmer in the afternoon, so clearly, we decided with the medium front and rear, which was something we never tested the whole weekend. We told Miguel to be a bit cautious in the beginning of the race and this is what he did. The start was ok, but the pace was a bit average on the first laps, but when he understood the tyres and pushed them to the right temperature, he had a really strong pace. He did some good overtaking. We were a bit scared about his should towards the end of the race, but he made his fastest laps at the end, he was catching the guys in front. I'm truly proud, he was finally catching Bagnaia, who is a tough contender in his rookie season. This was a strong race. There was only one DNF ahead of us, so I think we can be proud of this top 12. We are not so far behind Pol (Espargaro) and clearly, we improve together with KTM. I'm very happy about what all the team, KTM and Miguel have done. We were also very excited to see Hafizh fighting and passing Lorenzo and Abraham. For once, he was right behind Nakagami, catching him, but when he was about to pass him, he made a big mistake and that was the end of our hope. But I would like to thank him also, because maybe this is one of the best races of the year for him, he was fast, some laps quicker than Miguel and he didn't get a great reward because of the single mistake he did towards the end, but this is still a positive weekend. Let's pack now and fly to Australia, which will also going to be an interesting weekend, as the weather seems to be difficult to handle. We're ready to pack, enjoy a good night and then it's off to Down Under!"