Having completed a hot and difficult Thai Grand Prix just a few days ago, Red Bull KTM Tech3's Miguel Oliveira and Hafizh Syahrin can't wait to fly further East for the Japanese round this weekend, which is set to kick off this Friday at 10.50 local time (3.50 CET) with FP1 for the MotoGP class.
Premier class rookie Oliveira is eager to score this time out, after he missed the points scoring positions by less than a tenth of a second in Buriram still struggling with pain in his right shoulder. At the same time, Syahrin targets to show some decent results in the upcoming final four rounds of the season, following his recent announced about his plans for the future.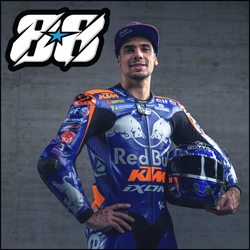 Championship: 17th
Points: 29
---
"I feel that we could have done a little bit more in the Thai GP, but it was all caused by the circumstances of my shoulder and after the two crashes on Friday, everything was a bit unclear for me. Anyway, the team did a great job. I think we are strong and confident enough to fight for the points again in Japan. It's a track that I like, a country, that I love to visit, so I think it's going to be a good turnout for us."
Championship: 24th
Points: 7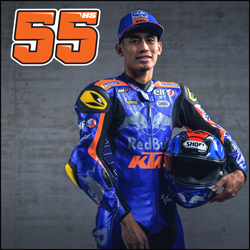 ---
"I'm truly looking forward to Japan! I like the people and the culture of this country, plus the track is also amazing, I really love it. Said that, I'm also sure, that it's not going to be easy. I will do my best as always and until the end of the season. I just want to finish the race and let's see what we can do and where we are. The last race in Thailand was not very strong, so I hope to have a better Grand Prix in Motegi."
---
"The next Grand Prix will take place in Motegi, Japan. I believe this could be a circuit, that is interesting for us. Right now, the bike is improving a lot, Miguel's feeling with it is more and more positive race after race. The main struggle we have is not technical, it's physical, because clearly since the Silverstone incident, Miguel has been suffering with the shoulder. There are some circuits where the pain is less than others, but obviously in Thailand that didn't help the last third of the race. We believe, of course that two weeks will be helping further recovery. It is a circuit, that suits quite well both, the KTM and Miguel's riding style, I believe. We are just keen to be there. We hope we have stable weather, because Motegi in October is not always easy. Clearly, it will be cooler than what we experienced in the previous round in Thailand. More than that, Japan is the country of the biggest motorcycle manufacturers in the world and if there is a place you want to shine, this is Japan. So, we will try the best we can with both, Hafizh and Miguel. The team is coming after a few days off, hopefully everybody will be in a good mood after having a rest. Most of them have been spending their off-week in Asia and everybody is ready to start working on Wednesday. After hearing about the huge typhoon last weekend, I really hope that all the people in Japan are healthy and that all the facilities are ok, so we can have a fantastic Grand Prix in Motegi as every year. See you in Japan!"