Following some intense rounds in Europe, the entire Red Bull KTM Tech3 team can't wait to fly to the annual Asia-Australia tour, which kicks off with the second edition of the Thailand Grand Prix this weekend, which starts with FP1 for MotoGP at 9.55 local time (4.55 CET).
After he scored points again last time out in Aragon, Miguel Oliveira targets to be back at the great group in the middle of the field, improving on his result, while discovering the Chang International Circuit for the first time aboard his KTM RC16. At the same time, Hafizh Syahrin, who is close to his home Malaysia this weekend, aims to finish inside the points scoring positions in front of a huge fan base, carrying in mind some pleasant associations with the Thai circuit.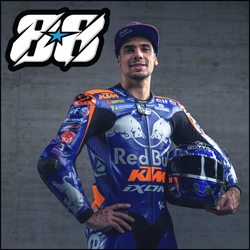 Championship: 17th
Points: 29
---
"I'm looking forward to race the GP bike in Thailand. Last year, we went to this track for the very first time and it was nice for me. I got a podium there, so I think that's a good sign for us. I hope to be a little bit more prepared than for the last rounds, giving the fact that I had more time to recover the shoulder. So hopefully we can go there to discover the track with our bike and work decently in order to get a satisfying result there for our team."
Championship: 24th
Points: 7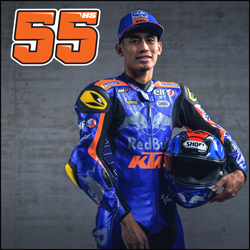 ---
"Finally, we arrive in Asia, which is a pleasure for me. I hope I can do a good race in Thailand for all the fans there. I have some nice memories from this track, first of all, the race last year was decent and I was riding MotoGP there for the very first time in my life in 2018, after I received the call to test in Buriram. I love Thailand and all the people, so I hope I can please them with a great result. I will try to score points until the end of the season now. Physically I feel well prepared, I train hard, so let's see what we can do as soon as we arrive."
---
"The next round of the calendar is the Thailand GP in Buriram, which is a place, where we have great memories from last year and myself personally I have to give away the trophy for the best Grand Prix organization in 2018, because it was clearly an incredible event, it was well organized, we had a nice paddock, saw great racing, met friendly people and they were very efficient. I think the whole paddock will travel to Thailand with a smile on their faces, as last year nobody knew what to expect and now we know it and we are positive about rediscovering everything there. This is obviously an important round being the first on in South-East Asia, which is the place in the world where anything related to the motorcycle business is booming and it is an important market, where all the manufacturers want to shine. We'd love to do well with KTM there. I believe that Miguel will be almost 100% fit, because he already felt so much better after just one week in Aragon, so we are quite confident, that he is almost back to his form and the understanding of the bike we've had in Spielberg and Silverstone. We are positive and confident, that Miguel can do well, also because I think he likes that circuit. This will be another interesting place to rediscover everything with our new bike and a new rider coming from Moto2. We are looking forward to see this. Hafizh, is almost a local boy there with a lot of support and fans coming to cheer for him. I know, that there's almost a love story between him and the Buriram circuit, because it was the first time he tested a GP bike in February 2018 there, he felt really good and was fast. We were truly impressed and decided to hire him for the full season, so for him everything started in this place. He likes the circuit and sure, he aims to please the crowd, plus the heat will be no problem for him, because he already flew to Malaysia straight after Aragon, therefore he will be better accustomed to the weather and the time than the other riders coming over from Europe. We also expect a lot from him, in addition he could be pleasantly surprised by a few updates coming from KTM for Hafizh. Hopefully we manage to handle that well and will receive a great result. Now it's time to pack our suitcases, leave to the airport and fly to beautiful Thailand."