Red Bull KTM Tech3's Miguel Oliveira showed a stunning battle for the top 10 today at Motorland Aragon. After his shoulder injury causing him a lot of pain during the past weeks, the MotoGP rookie started today's race from P17 in the grid and immediately made his way towards the points scoring positions. In an exciting and tough 23 laps long scuffle, he emerged 13th.
In the meantime, Hafizh Syahrin was 21st after the first sector, maintaining his starting position. In the course of the sunny race, the Malaysian made his way up to P18, but made a mistake a few laps to the end, so he eventually saw the chequered flag in P21.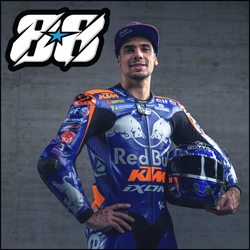 Position: 13th
Championship: 17th
Points: 29
---
"It was a good race today, we had a decent fight with strong riders, which makes me happy. It was difficult to overtake, especially in the last laps, but I was there in this group, fighting. I thought we have the potential for a bit more today, but at the same time it was nice to finish the race like this after not scoring the last two rounds, so now I feel much calmer and more relaxed to approach the upcoming challenges."
Position: 21st
Championship: 24th
Points: 7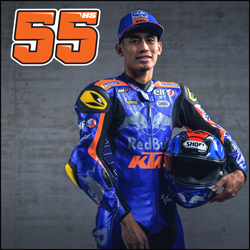 ---
"It was a hard race! In the beginning, there were many touches with other riders, going wide and it was difficult to come out of this without any harm. I tried to manage a good rhythm after I passed Abraham and aimed to try to catch Kallio, but in the end in turn 12, I couldn't stop the bike, so I went onto the gravel and I just came back behind Lorenzo. It was very close, but not enough. The last races were truly not good for me, I just want to keep working hard and try to understand more. We have five races more, which is going to be long, but we try everything."
---
"I would like to say, good race to Miguel, because he's been in a very strong group with a factory Ducati, a factory Honda and a factory Aprilia and we could see that these guys were side by side, fighting each other. The only thing is, that I feel we had the pace for 10th. Unfortunately, we never managed to pass Petrucci, who was clearly slowing us down and allowing the riders behind to catch us. At the end of the day, that doesn't make a big difference, but clearly, I believe we had a better pace than our final race position. Anyway, let's take the positives; Miguel is still not back at 100% on the shoulder. It's a big improvement since last week in Misano, so hopefully he will be 100% fit in Thailand. He is now unfortunately because of Pol's injury the KTM leader, so we have to keep that in mind and we need to continue pushing to give the right information to KTM, but we are happy to see Miguel fighting like this. I think it was quite a positive weekend altogether. On the other side, I was excited to see Hafizh to see Hafizh fighting with Lorenzo, Smith and Abraham. It was a good fight, he was ahead of them two or three laps to go and unluckily made a big mistake and finished at the back of the group, which is a shame. Nothing works with Hafizh at the moment, he should have been in front of that group. We can only carry on to support him, to show him our dedication and to give him as much support as possible, but nothing really works. I feel sorry and a bit disappointed about that. Anyway, the next race is going to be closer to his home, so let's hope this is going to give him a boost. Now we have a big job to pack up everything here in Aragon, to ship all the freight for the four flyaway rounds, which is a tough mission and once that will be done, a few days rest and hello Thailand!"