Red Bull KTM Tech3 experienced a tough 13th round of the 2019 MotoGP season at the sunny Misano World Circuit Marco Simoncelli. Thereby, Hafizh Syahrin did a steady race, but was struggling aboard his KTM RC16. Starting from P20 he did consistent 27 laps and eventually saw the chequered flag in P15 to bring home another championship point.
At the same time, Miguel Oliveira grit his teeth to contest with his injured shoulder from Silverstone causing him a lot of pain. The Portuguese MotoGP rookie made up three positions at the start and was well inside the fight for the top 15, until he went down in the seventh lap. The Red Bull KTM Tech3 rider managed to rejoin the race in 21st position and bravely tried to catch up again. Yet, Oliveira finished in 16th, missing out on the points by just a whisker.
Position: 15th
Championship: 24th
Points: 7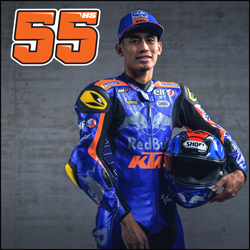 ---
"I don't know why, but I had a strange feeling on the bike during all the race and I'm really sorry for the whole team and everybody to be unable to do a decent race. I was really far and I was feeling slow while riding, because I couldn't have a good drive on the exit and there were many slights and movements. Anyway, I need to keep my head up and continue to work hard. We are motivated to do better next week!"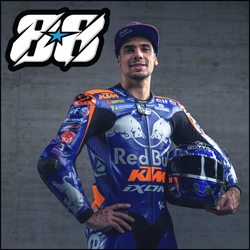 Position: 16th
Championship: 18th
Points: 26
---
"It has been a hard race, as we predicted. It was a shame, that I crashed in the beginning. There is not much, I can say, as it's a real pity, because we were again matching our target, which is the points. We could have been quite competitive in the race, but to manage the front tyre in the heat, was difficult, therefore, I couldn't avoid the crash. When I picked up the bike again, I also had a good pace, so it's disappointing. We carry on our work next week in Aragon and hopefully finish the race there, where I think we can end up."
---
"We ended up the weekend as we started it, too far back. We knew it was going to be difficult for Miguel due to his physical condition and injury sustained in Silverstone. We still had a few flashes of hope, but although the start was ok, the crash ended the weekend on a sad note. There was clearly, I think four, five points available there, but you need to stay on the wheels. So, thanks to Miguel to have spent the whole weekend trying although you were in pain. Thanks for getting back on the bike after the crash, because it was a brave attitude, but it's a bit of a pity after the positive Austria and UK feeling, that we are back to where we were before the summer break, which is at the back of the field, so let's hope Miguel's feeling will be better in Aragon. Hafizh did a steady race, got a point, which is a reward for the whole Red Bull KTM Tech3 team, but he was very far down on pace. We have to have something to be positive, so we take the point to cheer, but the feeling is not very exciting. We are going to pack and drive directly to Aragon, where we hope things will be better."