With a stunning eighth position today at the Red Bull Ring, Red Bull KTM Tech3's MiguelOliveira showed the best MotoGP race of his young premier class career so far, finishing as the top KTM rider on the manufacturers home soil.
After he started from 13th position, Oliveira built up a strong pace. He managed to pass one rider by another and eventually crossed the line just 0.185 seconds behind P7. On the other side of the Red Bull KTM Tech3 garage, Hafizh Syahrin also made up positions at the start, but unfortunately crashed out in the third lap, whereby he suffered a head concussion and was transferred to the local hospital in order to exclude any severe injury.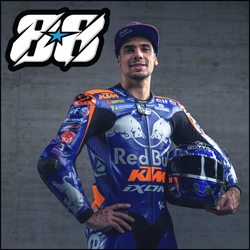 Position: 8th
Championship: 15th
Points: 26
---
"It was a great race today! Apart from the start, where we had some issues, so I couldn't go as fast as I wanted to. But the rest was quite funny, many overtaking. My pace was very good, as we saw yesterday already. I'm quite happy about this result, this first top 10 for me and for the team with the KTM bike. I'm really glad and I think we deserve this result, after we've been working really hard, understanding the bike and everyone has been very good at helping me, so I think this is a decent payback to KTM here in their home GP, being in top 10 and first KTM in the race, which is very positive for us. Now we go with a good feeling to Silverstone."
Position: DNF
Championship: 25th
Points: 3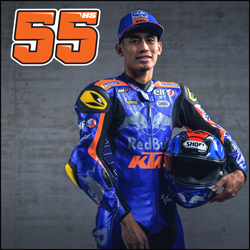 ---
"Sometimes you see the light at the end of the tunnel and today clearly there was some good sunshine at the end of our tunnel. We have been working hard for a top 10 result and at the end, we could maybe have had this result a bit earlier, but today was just like a dream come true. This is the first time, Miguel got some upgraded parts that he can use in the race. This is the home Grand Prix for both, Red Bull and KTM and this is by far our best result of the season. We are very proud of what Miguel did. We are very thankful to KTM, because they never give up, they never stop working, they never stop supporting us and bringing new things and to be with a manufacturer like that is something that warms your heart. I think the whole team understands that. Clearly, the next step is to try to have a bit better Qualifying position, because we could see that from lap three, four, when the race started to establish itself, we had the pace of the group behind the first two. We almost did identical lap times like the guys from third to sixth position. I'm not saying we are going to be on the podium soon, but the next target is to try to qualify better in order to be with them and with the pace we have and the expertise Miguel is having in the race, I think we can be optimistic about the future. Clearly, the hard front tyre was a very good choice. It was a bit of a gamble, but great. All in all, I'm very proud of what Miguel did and what the whole crew did. On the other side, it's another DNF, which is a bit worrying for me, because recently since the return from the summer break, Hafizh feels a bit nervous and maybe pushing beyond the limit. He has been taken to hospital for a check, as he had a small head concussion. Outside from that, he seems to be ok, so we are just waiting for him to come back. But clearly, I think we need to sit down with him and again, tell him that the most important is to be safe and to be finish the race. I think he had another possibility to score points, but it was another possibility waisted. Anyway, let's concentrate on the positive feeling. Thanks to everybody, congratulations to Miguel, great result and great job from KTM! We keep on working!"