The Red Bull KTM Tech3 duo of Hafizh Syahrin and Miguel Oliveira did their best in today's 30 laps race at the Sachsenring, but were unfortunately not able to gain the laurels for their hard work.
After finishing the first lap in 19th, Syahrin was fighting hard towards the points scoring positions. Although he showed great determination, the Malaysian has to leave Germany with a 16th place, missing out on the points just narrowly.
Following a strong start from P20 on the grid, Oliveira was quickly up to 17th in the first lap. Unluckily he went down in turn three of the second lap, but picked up his bike again to continue the race bravely behind the rest of the field. While trying to catch up, the MotoGP rookie did the quickest race lap of all KTM's with a 1:22.149 minutes.
Position: 16th
Championship: 25th
Points: 3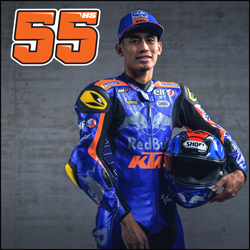 ---
"The beginning of the race was really good, but after ten laps we had a very big drop. Still, I tried to keep the pace, but then we were dropping again, so it was impossible in the left corners to keep the grip. It was easy to spin and many times, I was sliding a lot. I couldn't ride the bike comfortably and was fighting especially with the left side. I just continue working hard, even if we go into the summer break now. I hope my team and me can keep up the good work to see where we can still improve on the bike."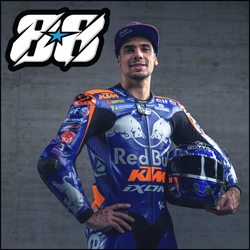 Position: 18th
Championship: 18th
Points: 15
---
"It's a sad finish of this weekend, because I think it was one of my strongest I had all season. I was very consistent in terms of race pace and also quite fast. It's a shame that I did this mistake early in the race, because after the crash even with a broken winglet I was quite fast and I had the pace to be inside the top 10. It is frustrating, but the most important is, that after the crash we picked up the bike and continued the race, which was very important for me in order to get information for the team and to learn from this, also to keep working hard to be fast again in Brno. Now we have this small break and we will for sure come back even stronger in Czech Republic because each time we understand the bike more and I'm getting better myself, too. We will see, and we will continue to work hard."
---
"This has been a very frustrating last round before the summer break for the Red Bull KTM Tech3 team. We knew with Miguel we had a very strong pace, we did a great FP3 and an even better FP4. Unfortunately, one more time, we didn't qualify well enough and I think that is something we have to work on very much for the second part of the season. Clearly, the start was quite good from Miguel, average for Hafizh. Miguel was in the good group and unfortunately, although he is a rider that very, very rarely does a mistake, he did one and that was a costly mistake at the wrong moment. He was brave to pick up the bike, back on track with a broken winglet on the right side and completely bent brake lever. Even though, he pushed and was doing impressive lap times with the bike quite damaged. What is leaving us even more sad is the fact, that this pace would have been good enough for the top 10 or even the top 8, which means for the best result of the season so far. Of course, it would have been great to leave on holidays with that result. We know we can, but we need to make it and prove it on paper. This is a pity, but I just want to say 'Good job, Miguel! Thank you for staying on track, thank you for pushing and this is something that for sure will make you a better MotoGP rider and I'm sure you learned quite a lot today!' On the other side, I don't know what to say, because the Qualifying position was a bit better for Hafizh than Miguel. The start was, as I said earlier, not ideal, but anyway, he passed a few guys ahead of him and was 15th, so we were quite happy when he was fighting with Nakagami in front. We thought that could be at least one of the guys finishing in the points and having a bit of positive feeling before the end of this first part of the season. Unfortunately, we saw his pace dropping dramatically, many riders passed him. I can't explain it, because it looks like the same scenario every weekend; at the end of the race, there is no grip, much sliding, no pace. That was in Assen, but then we got the carbon swingarm, which is supposed to be better. Clearly, the tyre wear is more than Miguel, who has been a lot faster than his teammate today. So, maybe there is also something to understand about how to handle the bike, how to set it up and how to ride it. But I am disappointed with that result, because I'm sure today Hafizh had the possibility to score a point or two, minimum and we didn't do it, which is a shame. Still I wish everybody a great break and hopefully we can start on a good base in Czech Republic for the second part of the year."