Miguel Oliveira and Hafizh Syahrin showed a decent race at the TT Circuit in Assen today and scored points with P13 and P15, respectively.
Yet, Oliveira had to start from P20 following a penalty in Qualifying, he built a solid rhythm throughout the 26 laps of his eighth MotoGP race and made up several positions. The Portuguese made a great last lap pass on Francesco Bagnaia to eventually see the chequered flag in 13th.
On the other side of the Red Bull KTM Tech3 garage, Hafizh Syahrin had a strong pace from the beginning and was closing up on the top 12 around half time of the race. During the last laps, he was unfortunately not able to keep his great speed, but took home a point in 15th position.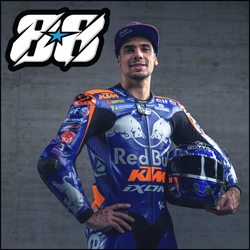 Position: 13th
Championship: 18th
Points: 15
---
"It has been a tough race today. For sure, the starting position didn't help at all. In the first laps I couldn't overtake anyone. Maybe we need to think about how to improve the bike for the first laps. But in any case, I had a strong pace at the end. I could be competitive and fight with other riders, so I think finally, to finish in the points was the target and we did it. I'm quite happy for the weekend and I think we were more competitive compared to the other two KTM's in the factory team. This is a small step, but we are getting there. Collecting more information for the future is also important."
Position: 15th
Championship: 24th
Points: 3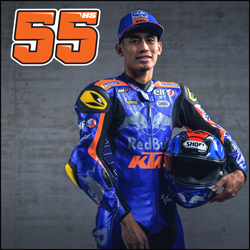 ---
"It was a really good race in the beginning until half of the race. From eight laps to go, I lost rear grip on the right side and don't know why. I tried to manage it with the traction control, but it was not working. So, I'm a bit disappointed, because I know I could have been close to Pol Espargaro and maybe also in front of my teammate. But this is the race. Now we further try to improve our weak points and understand the bike better and better. I hope I can get a better feeling next week already. I believe the new carbon swingarm that Miguel received here helped in terms of race pace, so I wish I can get it for the next round as well."
---
"Overall, a good result for the Red Bull KTM Tech3 team here in Assen. The Qualifying was not ideal and for sure when you are starting so far down on the grid, this is always a handicap and we could see that on the first few laps, it was a bit of a struggle to pass the guys in front. Anyway, Hafizh made a brilliant job, as he was having a great pace early in the race, passing a few guys and being truly consistent and very fast. I'm very happy and proud about that, because after the bad luck in Barcelona and Mugello, we wanted him to finish the race and we wanted him to score points. He has been riding great. Miguel was a bit more difficult in the beginning of the race, but then both of them found themselves in a tough fight with Iannone, Bagnaia and Aleix Espargaro and we could see that Hafizh was struggling to keep his position and the pace during the last six laps. He lost a few positions, Miguel gained a few positions. We got something new for Miguel here, that seems to be helping the rhythm and the pace and clearly, that has been a positive thing during this weekend. We hope Hafizh can benefit from this part in the next round, but I leave it to KTM, because I know they are flat out, trying their best and it's not that easy. Overall, we have two riders in the points with a decent rhythm, some Ducati and Aprilia and not far from the others in front. We are clearly closing the gap and are not far from Pol Espargaro. I believe this was a quite positive weekend. We have another race next week, which is always good. I like the back-to-back weekends, so we will see, what's going on there."