Red Bull KTM Tech3's Miguel Oliveira got his second best MotoGP result to date in Barcelona, while Hafizh Syahrin's race was cut short without any fault by his own.
Following a good start into his seventh MotoGP round, Oliveira found himself in trouble as he had to avoid a crash in front of him by the end of the first lap. However, with consistent riding, the Portuguese rookie managed to make up some positions, while he also received the benefit of other riders' mistakes and eventually ended up in 12th place.
At the same time, Syahrin managed to emerge from P24 to P19 in the course of the first lap and started to build up a strong pace. Unfortunately, his engine shut down on the fourth lap of the race and the Malaysian was unable to continue.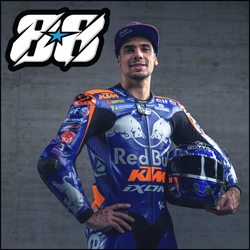 Position: 12th
Championship: 17th
Points: 12
---
"It was a difficult race, as we expected. I started really good, recovered a lot of positions until I got to turn 10, where I was in the incident, where Smith took out Aleix Esparargo. I had to go very wide to avoid both of them and obviously, I lost a lot of time. I was last and it took me a few laps to get that time back and finally, I had no reference from anybody and was alone. I decided to just finish the race. I had no one to fight for positions, so I just did my race and finished in the points, which was the target."
Position: DNF
Championship: 25th
Points: 2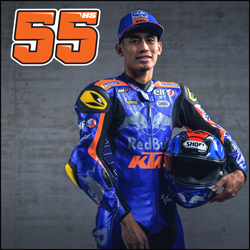 ---
"I'm really disappointed, because my engine stopped after just a few laps. I had a good pace and it's truly hard for me to express my feelings as I was sure I could score some points here or even finish inside the top 10 after all these crashes in the race. It's hard to accept, but I couldn't do anything about it. I tried to restart, but it was not working. The only thing I can do is to look forward to the next round. There's not much more I can say, it's just a difficult situation."
---
"That was a crazy race here in Catalunya! We knew it would be tough to finish because of the low grip level, but in fact it was a bit of an incredible first few laps with a lot of crashes. Unfortunately, Miguel, although he had a really good start, got pushed away on the first lap and lost a few positions, when Aleix Espargaro and Bradley Smith collided. He had nowhere else to go than into the gravel. Therefore, he lost everything and reentered the track in last position. From that moment, the mission was to finish the race, to stay on the wheels and see the flag and this is what he did. The pace was ok and I believe we could have been fighting with the guys in front, which are Andrea Iannone and Johann Zarco, but anyway. Even though this is not a outcome with everybody finishing the race, ending up 12th and scoring four points is a good result for the championship and a good reward for the hard work, so thanks to Miguel and his crew. On the other side of the garage, I am very, very sorry for Hafizh, who had a strong weekend altogether. This is one of his favorite tracks and I think he was ahead of Miguel and closing on Tito Rabat and everything was good until the engine stopped. We have to investigate what happened, but clearly, there was a technical problem, that didn't allow Hafizh to carry on racing. It would have been good to see our two guys in the points, but the technical side decided something different. We just want to tell Hafizh 'We are sorry! The day you have the best feeling on the bike and you can't finish the race, is a great shame!' But let's take the positives; he's better and better on the bike and this builds confidence. We have plenty more races to come, so hopefully he will get the same feeling in Assen and we can have our two guys fighting for the points again. So, sorry for the fans, the race would have been unbelievable, but it was destroyed after a few laps. Anyway, now we have a days' test and a few days off and then head to the north of Europe with the first round in Assen. All on!"