The Red Bull KTM Tech3 team duo of Hafizh Syahrin and Miguel Oliveira concluded the French Grand Prix in 14th and 15th respectively today at the cloudy Bugatti circuit in Le Mans.
Syahrin, who started the race in P21, made up a few positions in the course of the 27 laps encounter. In doing so, the Malaysian did consistent lap times and was able to stick with his teammate Oliveira until the chequered flag. Likewise, Oliveira pushed hard to stay upright in a difficult race and eventually crossed the finish line in 14th, but the Portuguese MotoGP rookie got a 1.5 seconds penalty for cutting the corners of the track by the end of the race, therefore Syahrin progressed to P14, which means he brought home the first points of his 2019 season, and Oliveira gained one point for P15.
Position: 14th
Championship: 21st
Points: 2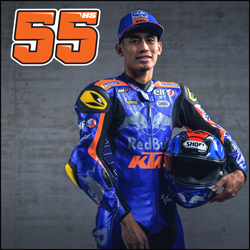 ---
"Thanks to God, because he gave me a strong motivation all the season and this weekend was special for me. It's the home GP for the team and I never give up. I also want to thank my team, because they always trust in me and also never give up to help me, to improve my bike, my riding style with the new machine. Anyway, I just want to say thank you to everybody. I enjoyed the race. In the beginning it was a bit difficult to find the speed, but lap by lap I found into a rhythm, I tried to fight with Miguel and stay close to him. Finally, he did a mistake and I ended up being 14th. These two points have a huge meaning for me and I want to dedicate them to my family and everybody around me, but especially the French fans, because they always appreciate all of us riders. We enjoyed it a lot and I hope all the fans around the world did so, too."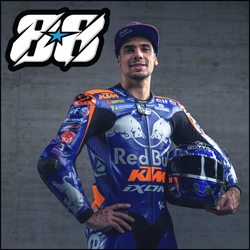 Position: 15th
Championship: 18th
Points: 8
---
"It has been a hard race today. All weekend we didn't have so much dry time, so obviously the setting was not perfect. Anyway, we managed to make some progress from the Warm Up to the race on my pace and I was able to go a little bit faster than this morning. I struggled in the race with a couple of things, but in general I would say, the result was a bit better than Jerez, which for me is the only positive today. I'm quite upset with my penalty. Anyway, we move on to the next round now."
---
"Altogether it was a very positive weekend in France for the Red Bull KTM Tech3 team. We have gathered a lot of very important information. Thanks to the weather we could ride on the wet for the very first time, which was good and we could see that both of our riders were quite competitive. So, this is something we've done now and we can look into the future in a more optimistic way - in terms of weather. The race was quite strong. We didn't gain too many positions at the start, but we kept a very decent rhythm. We were right behind Johann (Zarco) and I think the three KTM of Johann, Miguel and Hafizh did very similar lap time after lap after lap, which were quite interesting. In the end, I'm really glad for Hafizh, who was right behind Miguel very long and thanks to a penalty for Miguel, that he caught by going through a chicane, Hafizh managed to catch two points. I think this is very important for him to be with Miguel and Johann the whole race and he scored his very first points of the season. We know how important it is not to finish last and to be close to the guys you are fighting with. So, we are happy for Hafizh. Miguel did a strong weekend. As usual, we are very happy with what he did as well. One has to finish in front of the other, Miguel crossed the line in front of Hafizh, but due to the penalty Hafizh was in front of him eventually. At the end of the day, they are good teammates, they are good guys and the most important is; we've been competitive all through the weekend, much, much better than the previous round in Spain. KTM could be pleased, I think, because this is the best result from Pol (Espargaro) in a dry race and this is also the first time of the year, where we have the four guys inside the points. So, it's is a good weekend for Red Bull KTM Tech3, but also for KTM. I'd like to thank them one more time. We have more work to do, more catch-up to do, but we are a happy team tonight. We worked hard and this is the way we do, what we have to do, which is growing, improving and bringing KTM closer to the top guys, which will happen soon. So, thanks to everyone for the hard work, thanks to the two riders and their dedication in this project. Have a few days off and see you in Mugello!"