With loads of impressions and new sensations following the first European GP and a test day in Jerez de la Frontera, Miguel Oliveira and Hafizh Syahrin jet to Le Mans this weekend full of motivation. Yet, the French Grand Prix, is the most exciting event of the calendar for the entire Red Bull KTM Tech3 team, as it is the home round of the squad based in Bormes les Mimosas
Although MotoGP newcomer Oliveira was the best rookie of the field at the chequered flag of the Spanish Grand Prix, the Portuguese youngster aims to improve his KTM RC16 and his result this weekend in front of the passionate French crowd. Likewise, Malaysian Syahrin, who was able to stick with his teammate until the last laps last time out, can't wait to be back on his bike at 9.55 local time this Friday for FP1 to further grow aboard his new machine.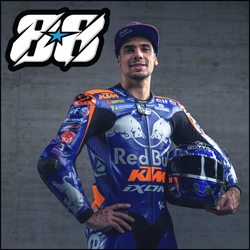 Championship: 17th
Points: 7
---
"Le Mans is a very nice track. It's our team home GP, so it's obviously quite special for everyone. After Jerez I think we have the good amount of work and the right direction, so I think we can basically confirm every little step we made in Jerez test and during the whole Grand Prix there now in Le Mans. Therefore, I guess we'll going to have a good weekend and finishing close to the points or better inside the points is still the target. I'm motivated and very keen to discover this track on the MotoGP bike."
Championship: 23rd
Points: -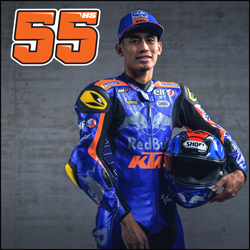 ---
"I'm really looking forward to Le Mans for the home GP of my team. I truly like this track and have some good memories from last year. I know that it won't be easy for us, but I believe I can improve, although it takes some time to understand everything in this situation. I keep my motivation high and train hard. I never stop learning and I'm convinced that the team will be better soon and stronger. I prepared myself well this year so far, so let's see what we can do in France."
---
"The French Grand Prix in Le Mans is for sure a very special event for the Red Bull KTM Tech3 team. Your home round is always a very special one. Of course, there are more French fans than anywhere else on the MotoGP calendar and a lot of national media you want to treat well, because for some it's the only event where you see them. We still remember the unbelievable welcome we received from the crowd last year, which is for sure something that might be a bit different this year without a French rider on board, but still Miguel speaks really good French and Hafizh, I believe is very popular with all his jokes in the French public. It's also very important for us as France is a key market for KTM, an important market for Red Bull, but in addition we have our fuel and oil sponsor, Elf, which is French and is going to do a lot of communication around the team for the French GP. I really believe that after the though Grand Prix in Spain, the test on Monday was quite productive. Thanks to KTM we received a few new items to test, that were all quite positive – not an immeasurable gain, but small gains and I think this is the way we will grow up together. We were quicker, had a more constant lap time, a better pace and more confidence for the riders. Although we've been never there with the KTM RC16, from my point of few, it should be a little bit easier than what we faced in Jerez. The weather is going to be a big question mark, as usual there, but this is something that is going to be the same for everyone, except that our two guys never rode one lap in the wet on the KTM, so I think everybody and even more us, we are looking forward for dry conditions and hopefully sunshine. Last year Claude Michy, the French Grand Prix organizer, managed to have the highest attendance on Sunday and hopefully with Fabio Quartararo in MotoGP class now, Johann Zarco in Factory KTM plus the whole Tech3 team carrying the French flag, we can at least match that result and make this event very special and sweet. We can't wait to be there, we can't wait to see the fans and give them what they come to find."