The Red Bull KTM Tech3 duo of Miguel Oliveira and Hafizh Syahrin faced a tough fourth round of 2019 at the Gran Premio Red Bull de España today, but both grit their teeth and gave everything to extend their race experience with their new KTM RC16 machine.
After he launched off the line from P22, premier class rookie Oliveira made up several positions and had a race long hard duel with Bradley Smith to finally come home in 18th. Meanwhile Syahrin, who started his 100th Grand Prix race today, was able to do faster lap times than during the previous days and could stick with his teammate, but still not being 100 percent fit, the Malaysian had to bite hard in the last eight laps and finally came across the line in 19th.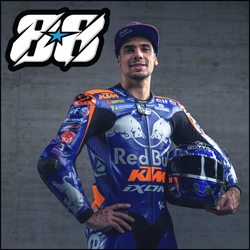 Position: 18th
Championship: 17th
Points: - 7
---
"It has been a difficult race, I couldn't manage to stay up with the riders in front of me. I made some passes in the beginning, but I didn't have the speed and the pace to follow any rider today, so I just kept my rhythm, pushed every lap and took home 18th position. It's a bit disappointing because I could not really find a way myself to be fast and be more comfortable on the bike. The team tried many things to help me, but it seems like this weekend with the new parts we got, it was hard to find our balance with the bike again, that we have built through the tests and the first races. Now with the new material, I think we need a bit more time to find solutions to help me being comfortable and fast on the bike."
Position: 19th
Championship: 23rd
Points: -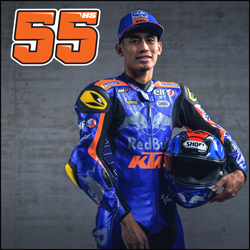 ---
"Friday and Saturday have been really difficult. On the first day, my condition was not good at all, on the second day, I didn't have a great feeling with the bike. We tried some different things in the Warm Up this morning and I have to admit that I didn't think it was a big improvement, but the feeling was a bit better. In the race, I told myself to work on my riding and try to do the same on the brake like in Argentina. I did my fastest laps of the weekend and caught up with Smith and Miguel until eight laps to go I couldn't keep the pace anymore, because the rear was sliding quite a lot and I couldn't open the gas like I wanted to. Anyway, I keep believing in myself, stay positive and we for sure keep working hard for the next round in order to be better for the home Grand Prix for my team."
---
"This has been a tough weekend for the Red Bull KTM Tech3 MotoGP team. From the very beginning we could see, that the feeling was not what we were expecting, the lap times were not coming. Miguel was very positive, because this is a track he likes. He was having expectations, but honestly, by Friday evening I knew it's going to be difficult. You always have to hope for improvements tough. Everybody worked really hard, Miguel the team. We improved, but everybody else improved as well, so it was a big working weekend, we had new things to try, but with four Free Practice sessions before the Qualifying you don't have so much time, because you always have to be concentrated on a fast lap and maybe we did a bit too much. Anyway, at the end of the day, the points were out of our reach. Miguel fought hard with Bradley, which is always interesting. Clearly, also the test tomorrow will be interesting, because we have plenty more things to try, more track time and let's take the positive; I believe Le Mans should be suiting our bike a little bit better. On Hafizh's side, I was really shocked by his day one pace and crash, but I have to say that – although his physical condition, because he was sick and got fever – he recovered really well today. He was matching his teammate's and Bradley Smith's lap time and with a full fuel tank he went faster than in Qualifying, so his fastest lap this weekend here in Jerez was during the race. This is a bit of positive feeling. He is better and like for his teammate, tomorrow is an important day. We need to carry on working and it is not easy, but we knew the challenge is going to be tough. Pol Espargaro showed the KTM package is improving as he was in front of Lorenzo on the full factory Honda till one lap go, so we can do better, we have to do better and this is what I keep on telling my riders and my crew. We just want to reassure Red Bull and KTM we are there, we are here to work, but we are not here to finish at the end of the pack. So we carry on working, pushing and believing."