Eluminated by the impressive floodlights of the Losail International Circuit, the Red Bull KTM Tech3 duo fought hard in the first race of the 2019 MotoGP World Championship.
Premier class rookie Miguel Oliveira was in P18 by the end of the first sector, but made his way up to 15th in the course of the first lap. During the race, he battled against his experienced KTM collogues Johann Zarco and Pol Esparagro and eventually ended up just 1.284 seconds behind Zarco.
On the other side of the Red Bull KTM Tech3 garage, Hafizh Syahrin, who had a tough time to adapt to his new bike during the preseason tests, was fighting further in the course of the long 22 laps of the Qatar Grand Prix and brought it home in 20th position. Now the Malaysian and his teammate look forward to transfer their experiences from Asia to South America, where the second GP of the season will take place in less than three weeks' time in Termas de Rio Hondo, Argentina.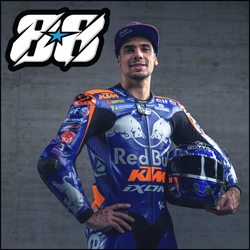 Position: 17th
Championship: 17th
Points: -
---
"The race was quite interesting, the engine stalled on the grid, so I had to come back to pitlane, restart the bike and start from the last position, but in any case, this didn't affect our race at all. I had a good start, had a first good lap, so after I was trying to keep up with this little group of Aleix Esparagaro and Taka Nakagami and after seven, eight laps to go I felt a big drop of tyre, I had a lot of sliding with vibration on the rear. Obviously, I couldn't do much. I'm disappointed, because I knew I could have finished in the points, if this didn't happen. It was quite hard to manage it, but anyway, I'm glad we finished the race, I had good fun and gathered some good information. So, we move on to the next round."
Position: 20th
Championship: 20th
Points: -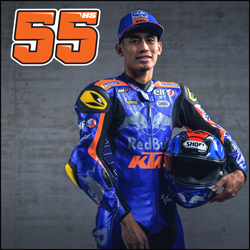 ---
"It has been a difficult race for me. We have a big gap to the front and I don't know how to explain it well. I tried to understand the bike in each lap, which was quite tough and it was not easy. I couldn't keep the pace and while I played with the electronics the gap got bigger and bigger. To be honest, I'm slow at the moment and I don't have the confidence to push more. I try to learn from today's race and improve further. I'm sorry for the team and all my friends, who came here to support me. I'm disappointed with myself, but we keep on working hard, we are patient and I hope it's coming soon."
---
"Incredible race from Miguel here in his first race in the MotoGP class with the Red Bull KTM Tech3 team! He stalled the bike on the grid like Fabio Quatararo, but fortunately managed to restart and started dead last. Through this handicap, he was 15th after the first lap and then we saw him climbing until P13 with guys like Jorge Lorenzo and the two factory KTM's behind, so we were starting to dream as the target was one point and until three or four laps to go, we were matching this target. The last seven, eight laps were very difficult, because the rear tyre was completely finished and he lost quite a few positions to end up outside of the points, but I think we need to take the positives of the whole weekend and he did a great job the whole winter testing, he has been constantly together with the KTM factory riders, who have a lot of experience in the MotoGP class, quite a few times ahead. So, we are very proud of what Miguel has been doing and we are happy to give this kind of feedback to KTM to grow and to improve. Everything is very, very positive, except the fact that we missed one point, but even more important the gap to the top is very small, which is what matters the most. For sure we need some rest, but we just can't wait to be in Argentina to see how we are going to be there. To start a year like that with the project we have, is very encouraging. On the other side of the garage, I can not hide my disappointment, because Hafizh has never been in a good rhythm. We ended up last, the guys behind us have either crashed or retired from the race, so this is not enough. We are here to help and not to shoot on anybody, but I think Hafizh needs to change something, because we can't have such a gap in between our two riders. Let's hope he's going to find some interesting things for Argentina. Thanks to Red Bull, thanks to KTM, but most of all, thanks to the Red Bull KTM Tech3 team, which was been working really hard."